You probably have heard of fruit infused water, which is considered a healthy way of detoxifying the body. One of the favorite fruit flavored waters is the strawberry infused water, which is as delightful and nutritious as other preparations using various fruits, herbs, and vegetables. One reason why this beverage has become popular is that it helps people lose weight while maintaining good health.
The Benefits of Strawberry Infused Water
Water is not only essential to our survival, but also promotes health by supporting most bodily functions and maintaining the balance in metabolism. In fact, drinking lots of water is key to boosting metabolism, which helps you lose weight.
For people who want to enjoy good taste without the added sugars or empty calories contained in many beverages, drinking strawberry infused water is the perfect answer.
Strawberries are packed with vitamins, minerals and other anti-oxidants, which are excellent anti-aging weapons that help restore health to your skin, hair, and nails.The fruit used simply infuses through the water without releasing its calorie content. Therefore, your drink is calorie-free, but definitely delicious and healthy.
Other health benefits of drinking strawberry infused water include:
It helps improve your mood.
It promotes weight loss by boosting your metabolism.
It helps flush toxins from your body.
It makes you feel full so you don't have to eat much.
It helps release fat cellsnaturally.
It helps keep food moving in your digestive system.
It helps you sweat more during exercise.
It helps reduce muscle fatigue during workouts.
It helps you recover faster from exercise.
How to Make Strawberry Infused Water
Below are a few recommend recipes to get you started.
Strawberry-and-Lemon Water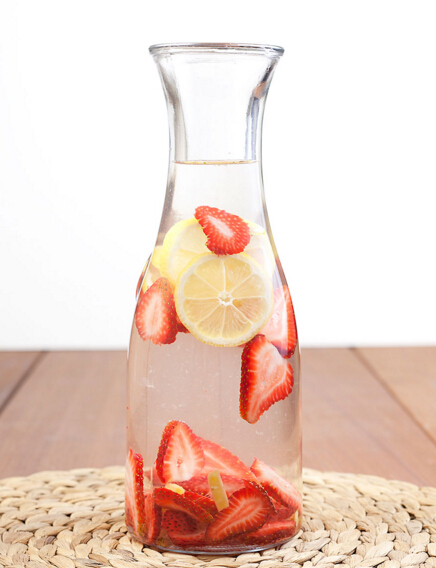 Ingredients:
Fresh strawberries, sliced
Lemon slices
Water
Instructions:
Put slices of strawberries and lemon into your jug or jar. You can put as little or as much fruits as you want.
Fill your container with cold water then cover it. Leave in the refrigerator overnight. Your strawberry infused water will be refreshing and tastyin the morning.
Strawberry-and-Blueberry Water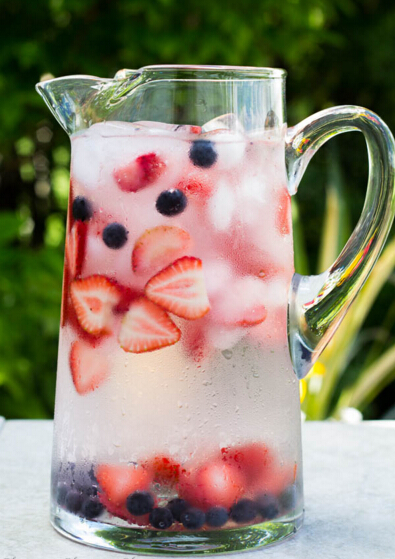 Like all berries, strawberry and blueberry are delicious and rich in antioxidants.
Ingredients:
1 c of fresh strawberries
1 c of fresh blueberries
Water
Instructions:
Mash the fresh berries or cut in chunks. Divide into four portions and place them into each jar.
Fill the jars with cold water.
Keep in the refrigerator overnight to maximize flavor.
If you want to use larger jars, simply double the amount of fruits.
Strawberry-and-Kiwi Water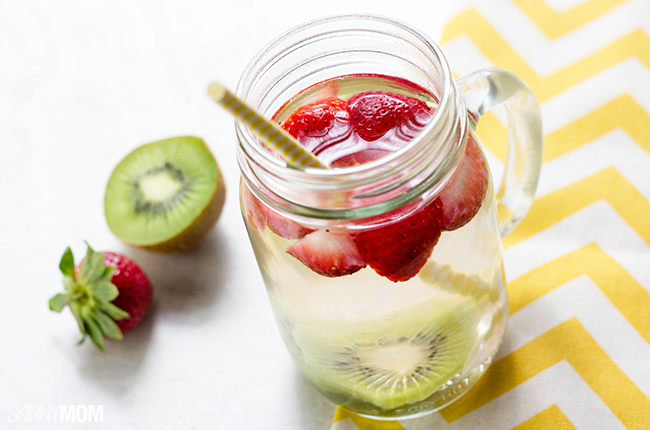 Ingredients:
4 pieces of strawberries, sliced
10 pieces of mint leaves
Water
Ice
Instructions:
Place the sliced fruits and mint leaves into a pitcher.
Add water and ice.
Enjoy! Add more water as needed.
Strawberry-Watermelon-Lime Water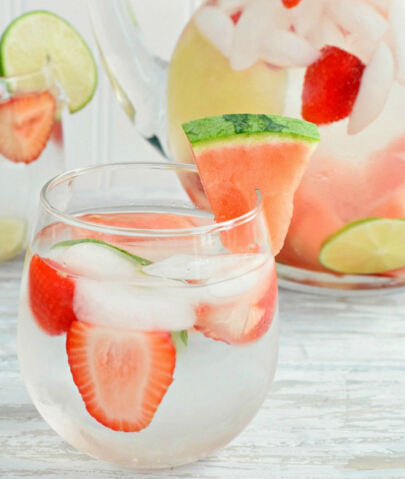 The combination of sweetness and the tangy lime makes this drink burst with flavor.
Ingredients:
10 pieces of strawberries, halved
2 slices of watermelon, cubed
1 piece of lime, sliced
Instructions:
Place all fruits into a pitcher.
Add water.
Add ice, if desired.
You can enjoy your drink right away, but it tastes better when allowed to sit for a longer time.
Strawberry-and-Orange Water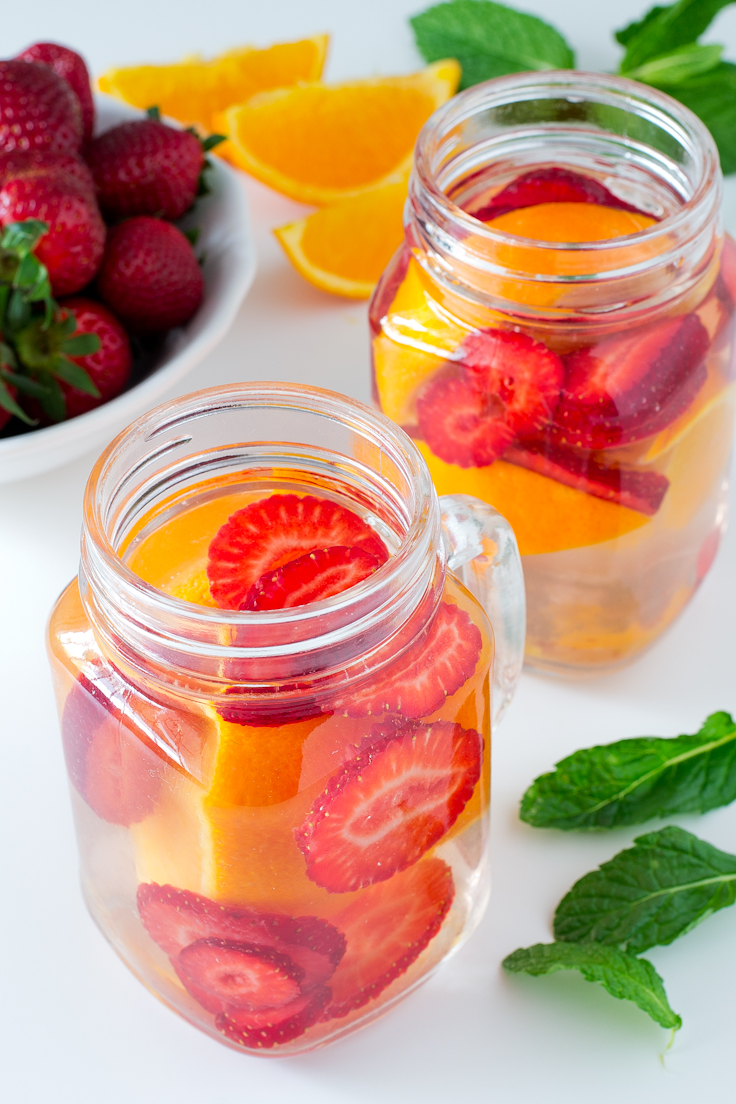 Ingredients:
1/2 c of strawberries, sliced
1/2 piece of orange, sliced
1/4 c of fresh mint
Filtered water
Instructions:
1. Place all ingredients into a jar.
2. Add cold water.
3. Cover tightly and allow it to sit overnight in the fridge. 
Strawberry-Cucumber-Lime Water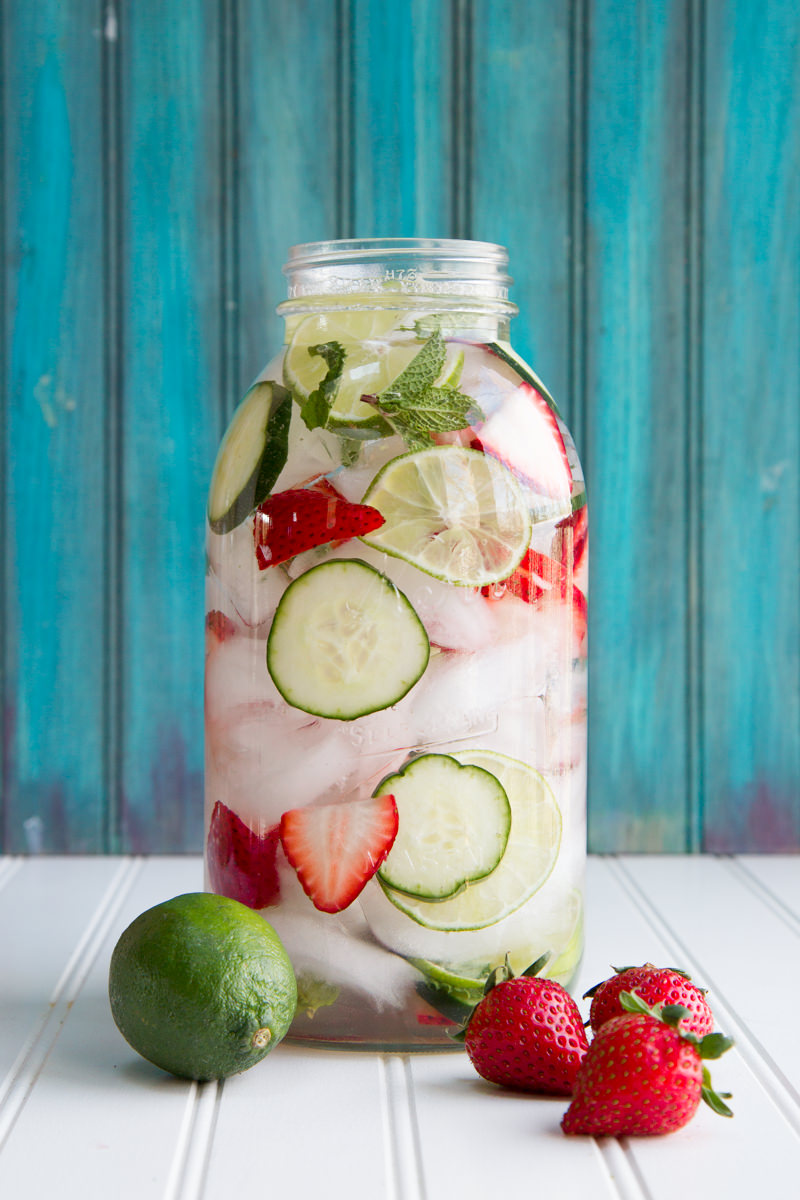 Ingredients:
1 c of strawberries, sliced
1 c of cucumbers, sliced
2 pieces of lime, sliced
1/4 c of fresh mint leaves
Instructions:
Place the strawberry, cucumbers, lime, and mint leaves in layers in a big jar or pitcher.
Fill with water.
Add ice if desired.
Chill for 10 minutes, and enjoy!
Here is a mom's experience with strawberry infused water:
Being the mother of 2 small kids and breastfeeding 1 baby can be really exhausting and tough on the nerves. Aside from the stress, I also don't feel too good about my body, so I decided I needed to take good care of myself.

Then I learned about making fruit flavored water. Of the many varieties I have tried, my favorite is strawberry infused water.Now I can enjoy drinking lots of water without being afraid of the calories! My doctor says it's also a good way of taking in more vitamins from the fruits without worrying about added sugar.